Direct to consumer brands like Mama Earth, Dollar Shave Club, or Noise: Audio products, work on a D2C business model. In recent years the D2C business model has been adopted by a lot of new ventures and startups. Selling the products directly to consumers seems to give businesses a higher profit margin. But what does the Direct to consumer business model exactly mean & how is D2C different from traditional retail business?

What is D2C?
Direct to customer or D2C means a strategy where businesses do not have to rely on middlemen, distributors, or retailers for selling their products. These businesses sell their products to customers through a network. The important thing is the business has complete control over all the processes, that is manufacturing, marketing, and distribution, etc.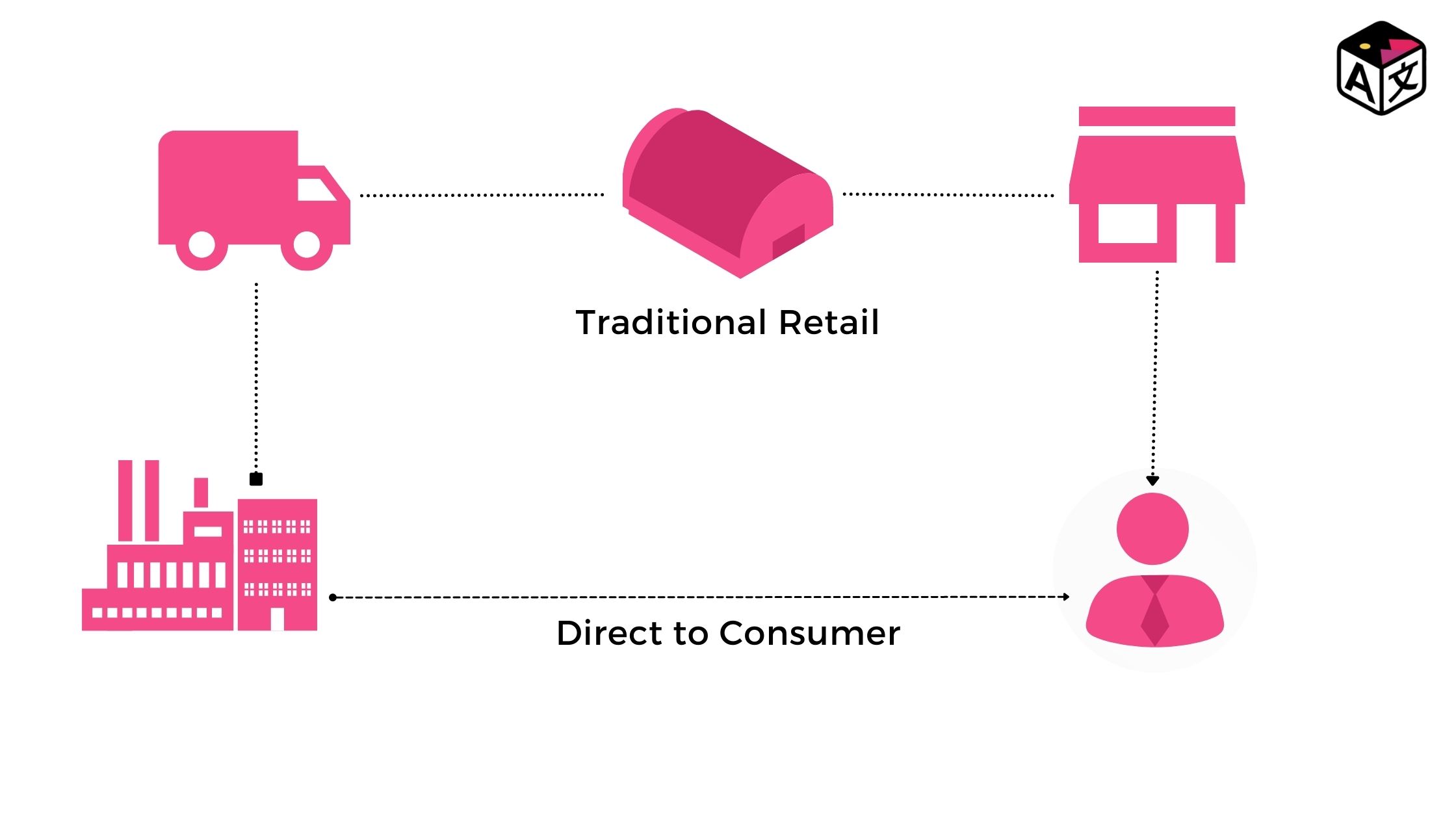 This way Direct to consumer differs from the conventional retail business model. However, we all live in a digital world, and eCommerce has taken a significant rise in the last decade. With this growth, there also has been a space where the D2C business model lives in this digital world, and it is called D2C eCommerce.

D2C eCommerce vs Traditional Retail
When a producer/manufacturer sells its products directly to consumers from a website/webstore, that approach is called D2C eCommerce. This business model is completely different from the traditional retail one, where a product is produced from Manufacturer it goes to >  wholesaler then to > distributor and to > retailer > after all this finally to the customer.

The traditional D2C were used to rely on consumer networks; some brands like Amway, Tupperware had mastered this business model. But now brands are taking a digital approach toward D2C with webstore for selling and the use of social media to reach the target consumer.
Benefits of D2C E-commerce
Control over brand.
A manufacturer has little to no control over how their products are sold by retailers. A D2C eCommerce business model gives producers control over their marketing & sales efforts, and the company is directly in contact with the end consumer. The company can control the complete customer experience.
Gain higher margins
Manufacturers can have higher margins by removing the middlemen from the picture. The middleman or the retailer selling their (Manufacturer's) product means the manufacturer only earns profit on the markup from a gross sale. D2C enables brands to sell products at the same price as retailers and earn higher profit margins.

Opportunities for innovation in product category
Usually, most retailers follow a set of standards while selling. They often keep themselves away from selling products that are new and have no track record. The producers are then restricted to what the retailers demand selling. Direct to consumer model benefits the manufacturer to experiment with new products at a smaller scale, test with selected demographics, and gain valuable feedback from customers. In this way, manufacturers can produce what the end customer wants.

Build customer loyalty
The D2C enables more opportunities for building a direct connection with the customer. Unlike traditional retailers and eCommerce platforms. To boost customer loyalty, a reward system can be set up for customers who like to buy frequently or better deals & exchange bonuses can be offered to the customers.

Freedom to expand market opportunities.
Globalization has taken over, and manufacturers are no more restricted by borders while selling D2C. Now in this day and age, it is much easier to target newer markets and reach the right customer.
D2C eCommerce has made its way to reach the right customers. D2C will soon become a new normal in the eCommerce industry. Companies choosing and adopting D2C is beneficial from an operational &  financial point of view.

Picking up from point number 5, if you're thinking of expanding your business to more geographies, language becomes a tough problem to tackle. As you might know, for a successful business it is very important that the right message is conveyed to the customer from the brand.
For your D2C brand, you can translate the content of your web store to make it more suitable for the target market. But have you thought about the images?

Product Images are really important, as they are now the most important way of communicating with the customer. Images of the product should also be translated into other languages to suit better with the website or social media. But manual translation like translating English to Chinese to text in and the image is a lengthy process, and will also require graphic designing skills, to translate text in the image and recreate the same image into a different language.

ImageTranslate is here to help.

In under 30 seconds, ImageTranslate lets you translate the text in the image, and recreate the same image into a different language. With the support of 40+ languages and project management for batch translation, that enables translating images in bulk in one go.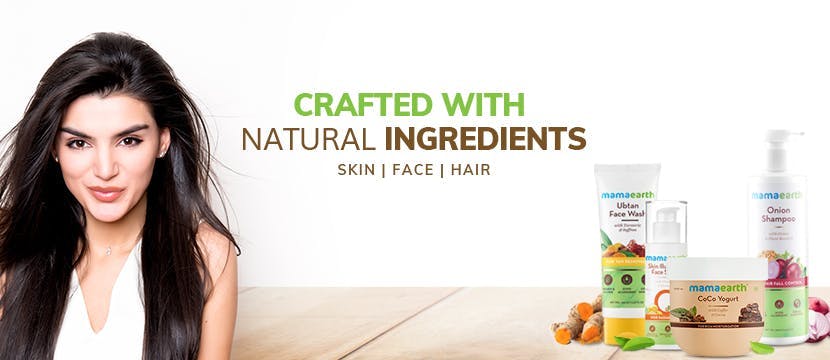 What makes ImageTranslate unique is its typesetting, so you can edit the translated text in the picture, change the font, move the position of text, change color, or make the text bold or italic.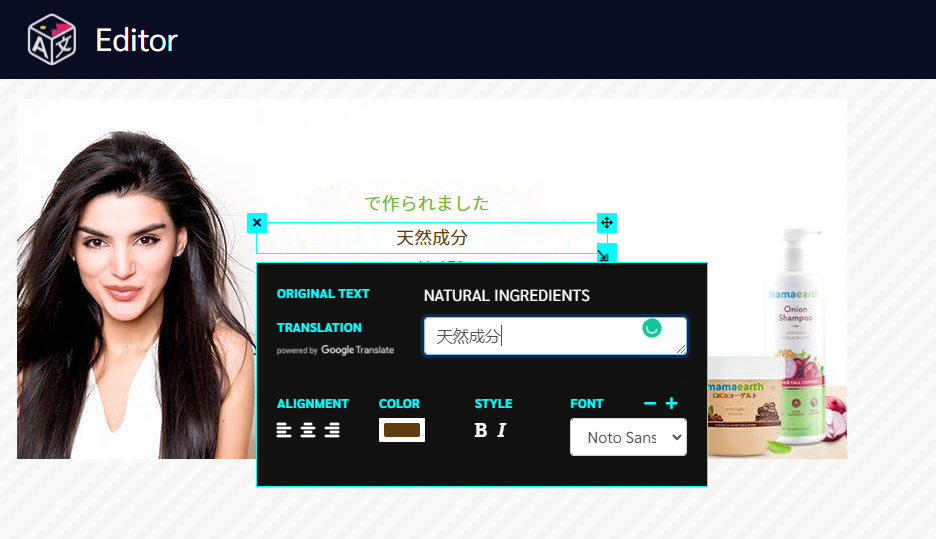 The inpainting technology makes sure that the background of the image where the text is translated is restored just the way it is in the original one.
Take a look at How to translate picture using ImageTranslate

Try out ImageTranslate for free, Visit: ImageTranslate.com